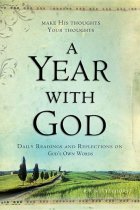 So I recently joined a program called Book Sneeze where the publisher will send me a free book in return for an honest review of the book.  I love to read and I love to help others before they have to spend money on something they they are not yet sure about – so it was a great fit :).
Anyway – this is my review of the book "A Year With God – Daily Readings and Reflections on God's own Words" by R.P. Nettelhorst
First let me say this book is a softcover devotional based solely on the the Old Testament.  I believe this book can be used by any adult or young adult – but mostly for a mature believer who is not so easily confused.  It has a great topical index covering such topics as Hope and Fear, Love and Hate, Faith and Doubt, and Joy and Sadness – and others.  Loved that I could just pick a topic and go.  The "day 1", "Day 2" style is nice too.
Very cool thing you notice upon reading a few of the devotionals – there is no shortage of bible translations.  There is scripture from the NIV, the New Revised Standard, The Message, Holman Christian Standard, NKJ, and more.
After a few random devotionals however – I decided that this book wasn't really for me.  I loved the numerous translations but I felt that the actual devotions were simply fluffed up in order to bulk up the pages.  There was no meat to the actual devotion.  Sometimes it was just an exploded description of the scripture above – or just a history leading up to it.
Not every devotional was like that and certainly I have not read them all – but out of the many that I did read – I knew the book wasn't for me.
The book was based on the Old Testament specifically and I have never seen a devotional like that.  I liked that.  If you are a new believer – I don't think this book is for you.  It seems too confusing – almost obtuse.
I was asked to tell it like I see it and in this particular case – I am not impressed.  I will give it a few more days but I expect this book is not long for my library.
God Bless and Give with Passion!
Chris