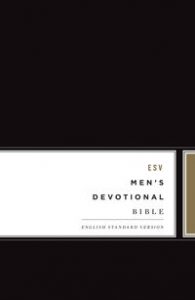 Recently I was sent the ESV Men's Devotional Bible to read over.  I like it.
Right off – it is a Bible, plain and simple.  I love that about it.  It has 365 devotionals geared towards men, a dictionary in the back and a set of articles and resources on differing topics.
The devotionals are all written by different authors for each book of the bible.  For example the devos in Esther are all written by Alistair Begg, Senior Minister, Parkside Church, Cleveland Ohio. Revelation contains devos from James M. Hamilton Jr., Professor of Biblical Theology, The Southern Baptist Theological Seminary, Louisville, Kentucky.
The Articles in the back are also written on many topics, by a number different authors including Bryan Chapell, David Powlison, Ed T. Welch, and more. This is a Bible geared towards men, not because the content is any different from any other ESV, but because the devotionals and articles are addressed specifically towards men and helping them with their various struggles and questions.
I did take the time to read a handful of the devos and they are pretty good. They take a short time to read on average and encourage you to think. Do they answer all your problems questions or concerns? No, but the Bible in which they are contained does.
In the end I believe I will use this as a devotional Bible myself, especially when I am between studies or am hurried, as you can consume the devos pretty easily.
Thank you to FlyBy Promotions for sending me the Bible.  It is my first ESV.  I will enjoy it.
From the publisher:
About the ESV Men's Devotional Bible:
Our world presents daily distractions that can easily displace Christ as the center of a man's heart and life. The goal of the ESV Men's Devotional Bible is to strengthen and encourage men through the life-giving Word of God and sound devotional content aimed at nurturing godliness. With 365 theologically rich and gospel-centered devotions drawn directly from the Bible, this all-new resource was created under the editorial oversight of Dr. Sam Storms with contributions from over fifty Christian leaders. Introductions orient men to each book of the Bible, exploring its unique contribution to a man's walk with God. Thoughtful and instructive articles address the importance of sound doctrine, life in the local church, leadership, the heart, calling, and a host of other relevant issues for today. The Men's Devotional Bible will strengthen men in their walk with Christ, helping them apply the gospel and the truths of God's Word in their homes, churches, and workplaces.
Features:
– 365 brand-new devotions
– Brand new book introductions
– 14 brand-new articles
– Dictionary of key terms
– Ribbon marker
– Smyth-sewn binding
– Lifetime guarantee on TruTone edition
– Packaging: slipcase (TruTone), L-card (HC), permanent slipcase (Cloth over Board)
The Usual:
"Disclosure (in accordance with the FTC's 16 CFR, Part 255: "Guides Concerning the Use of Endorsements and Testimonials in Advertising"): Many thanks to Propeller Consulting, LLC for providing this prize for the giveaway. Choice of winners and opinions are 100% my own and NOT influenced by monetary compensation. I did receive a sample of the product in exchange for this review and post.
 Only one entrant per mailing address, per giveaway. If you have won a prize from our sponsor Propeller / FlyBy Promotions in the last 30 days, you are not eligible to win. If you have won the same prize on another blog, you are not eligible to win it again. Winner is subject to eligibility verification."