What is your Why?
Pick four.  It is difficult to truly narrow it down to four.  Let me write 'em down and narrow from there…
The freedom to serve when I want however I want (financially or physically)
Getting my wife her new car
Get out of debt
Get out from under main client
Pay off house
90 – 10 rule  Tithe 90 live on 10
More Choices for family
The Four biggest for me are (not in a particular order -  I think 🙂 )
More Choices for family
90/10
Freedom to Serve
Get out from under main client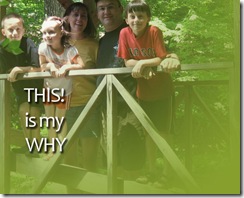 Check out my new twitter background – "this is my why"
So here is something I need to do…
I need to translate my attitude into my WHY b/c the skill sets I have drive me crazy. I actually just want out of all those. They keep me from moving forward.  So can I take a skill set – and drive it home into a business so that I can then start creating a business on what I love – but currently don't know enough about? 
It was a great day one in the Paul and Carrie 60 program.  I am working on the homework  –
What motivates me – REALLY?
What are my Skills?
What do I know?
How can I package this for consumption?
Follow along and find out with me 🙂
God Bless and Give With Passion!
Chris