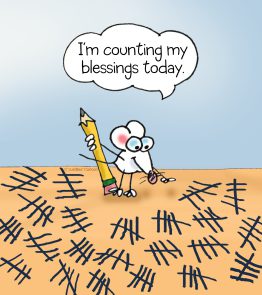 We just got the appraisal back for our refinance.  It seems the house is currently worth $40k less than what we bought it for even after spending $10k in renovations.  So we 'officially' fall into the upside down mortgage category.  So much for refinancing.  I guess we're in the two steps backward stage of the old adage.
Thank you Lord that three steps forward is the next part 🙂
So this post is really just my putting on paper the things I am thankful for so that I can move through the things that are weighing heavy at this moment.
We all go through trials.  We all have ups and downs.  This is a given.  However what is not always a given, is our response to both.  James wrote:
Consider it all joy, my brethren, when you encounter various trials, knowing that the testing of your faith produces endurance. And let endurance have its perfect result, so that you may be perfect and complete, lacking in nothing.
Right now I feel like there are so many trials to be faced and all at once.  I have had the blessing to live for 43 years at this point, sharing 28 years with numerous people around the world because of the Lord's work in my life through Monadnock Bible Conference, 14 years with my lovely bride Beth, 12 years with my twin boys, and seven years with my beautiful daughter Anna.  That alone is enough to be thankful for.
But just to help me see just a little more of why I should count it all Joy and why I should be thankful in ALL things, not just the blessings, I am going to spend a minute and recount just a few of the blessings that mean the most to me.
Some of my most favorite blessings include
I am a sinner SAVED by grace!  Dude! How can you beat that?  All else pales in comparison.
My family are ALL also sinners SAVED by grace.  Now if anything could come close to the first, this is it.
Jehovah-Jireh is our God!  Could you ask for a more compassionate, forgiving, jealous God?  I think not!
Beth has just successfully come through a two hour surgery and is sleeping soundly.  All went great according to the doctor.
We still have the house. The purpose in refinancing was to help pay the bills.  At this point there is no real chance of refinancing and we wasted the money to have it appraised.  Bummer.  But it is still ours and we still have the protection of our home over our head.  Another day I will get on a soap box on how people who over reached themselves were getting rescued by bailouts and now own their houses outright or have considerably less to pay because they were rewarded for being irresponsible.  But not today 🙂
There is income coming in the door each week.  I am gainfully and happily employed at Monadnock Bible Conference where I get the opportunity to share Christ with thousands of people each year.  Not directly mind you, but hundreds directly for sure.  I came to camp for the first time 28 years ago this past September, and got my first opportunity to work full time just two years ago.  It has always held a dear place in my heart and many of the people I knew because of camp, helped to shape who I am today.  (Especially shaping the thankful person verses the angry one.)
Our children are fed, clothed, and schooled. That sounds pretty simple right?  Aren't we all thankful for that?  Open your eyes and look outside your city, state, and country.  Did you know that 842 million people in the world do not have enough to eat?  Check out this and other astounding stats at the World Food Programme website.  Or if you really have some time and want to floor yourself, just Google "How many starving children in the world?"
Anyway – I have much to be thankful for and should do better at counting it all Joy.
Lord please use this post to help me get a better handle on the blessings in my life and the life of my family.
If you spent the time and read through this entire post, you did well.  If this helps you to take a better look at the blessings you have each day then spending the time to write it was worth it on two fronts.
Thanks for stopping by.  Know that God knows you, loves you and wants the best for you.
Give with Passion!
Chris