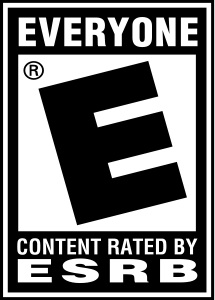 So it seems these days I have really taken to reviewing things.  I love doing this.  Today I got in the mail four different video games to review and an extra copy of each of them to give away to a reader.  If you are interested in a copy let me know below.  First come first serve 🙂
The short and sweet – I love the game – it is a cool kids game.  I had some issues with the install though – not all technical.
The long version…
So this review is on the game Keys of the Kingdom from LB Games.  (Left Behind Games – if you were wondering.)  From their website:
Keys of the Kingdom is a brain teasing logic PC game which takes you to the romantic epoch of noble knights and heroic adventures!  Move back in time to try and help Sir Lancelot save the township from the oppressive King.  Solve the exciting puzzles invented by the guards to block your way as you journey to the King's Castle.  … Each puzzle contains a powerful Bible verse to keep you spiritually lifted.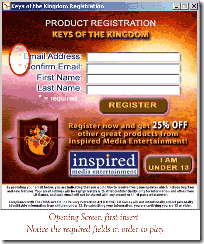 The game is rated E for Everyone by www.esrb.org and I think it is great for probably 7-12 year olds.  It seems simple at first but it is quite addicting as well 🙂  I can't wait to finish all 100 levels.
So let's start with the technical stuff.  You need a PC for this game.  when installing I ran into some quirks and some annoyances.  The first was an annoyance.  I saw this image to the left.
Notice anything striking?  You cannot move ahead without giving an email address – period.  There is no way to move past it if you are over 13.  You simply mist register.  Well because I am evaluating the thing I did it.  (You can click I am under 13 and get past)
Then the program crashed.  That was quirk number one.  Just a quirk I'm sure, but it was there just the same.  (When I installed it on a second machine it did not crash.)

Anyway within seconds I got an email from my registration.  I knew it would happen.  What I didn't know is whether or not I was now on a mailing list of some kind.  It did not in any way shape or form follow the CAN-SPAM regulations.  I could not unsubscribe, it did not have their address on it, etc.  It even came from the address no_reply@lbgames.com.  I think this is a definite faux-paux on their part.  I hope they will take care of this in the future.
So after restarting the installation I got a very easy to understand installation window with four choices.  The one I wanted of course was Install Game.  The install went without a hitch from that point on.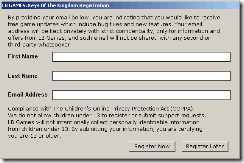 Ok – the game is installed and can you guess what I get?  A registration page that asks for no less than my email address – AGAIN!  At least this time I can choose "Register Later".  The only draw back I found is that this registration window comes up every time I start the program.  NOTE: If you clicked under 13 in the first screen you are never asked again for contact or registration info
I think they will get a lot of bad email addresses from this game.
Ok – enough complaining already.  What is comes down to is a bad registration requirement and a quirky install.  After that – smooth sailing!!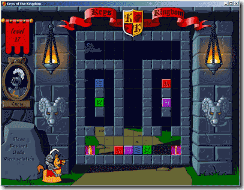 By smooth sailing I mean – I love the game.  It is a simple mind stretcher.  Your objective – bring together the lock and the key.  However you must first remove all obstacles in your way.  You can only move your key, lock, blocks or bombs – left and right and down.
After a few levels you get other helps like weight scales and elevator blocks.  But for the most part there is no upward movement.  You have to figure out how you are going to get the key and the lock together all the time knowing that if you remove the blocks in the wrong order – you will have to start the level over.  There is no going back 🙂
Way Cool –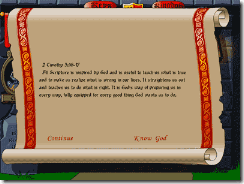 After every level a scroll comes up that has a scripture on it that gets read to you audibly.  The male voice that reads it is a good one.  Easy to listen to etc.  So far the verses have been true to the Word.
TIP: I think it is worth starting with the options and changing to "Windowed Mode" so you are not flipping back and forth between resolutions.  A side note: If you stop the game and come back – it remembers that you were in windowed mode – I like that.
Another note that a I just realized b/c I went back to play it again 🙂  – When this game runs, it is taking up almost 149,000k of ram to run.  The only thing greater on my computer is Firefox, the next lowest item is Skype at 69,000k – less than half.  So make sure you have a speedy little machine.
TIP: After you get all your settings in order I recommend spending a couple minutes going through the 7 levels of tutorials.  Simple but worth it.
If you looked at the image above of the scroll you might have seen a link in the right that simply says "Know God".  When clicking on the Know God link you get taken to a specific page on the web site http://www.dontbeleftbehind.com.  The page is on The Four Spiritual Laws by Campus Crusade For Christ.  I like that throughout this whole game they are asking if you know Christ.  Very interesting way to do it.
Ok so at first it seemed like maybe I didn't like it.  But if you have read any of my past reviews – you will see that I often start with the blah things, and more often then not – they are technical in nature or personal preference.  Then I follow up with what I loved about the product.  Well I really liked this as a parent.  Tomorrow I will let the kids play and have them tell you what they thought.
Good Night, God Bless and Give With Passion!!
Chris
Luke 2:16-20"So they hurried off and found Mary and Joseph, and the baby, who was lying in the manger. When they had seen him, they spread the word concerning what had been told them about this child, and all who heard it were amazed at what the shepherds said to them. But Mary treasured up all these things and pondered them in her heart. The shepherds returned, glorifying and praising God for all the things they had heard and seen, which were just as they had been told."

Brought to you by BibleGateway.com. Copyright (C) . All Rights Reserved.