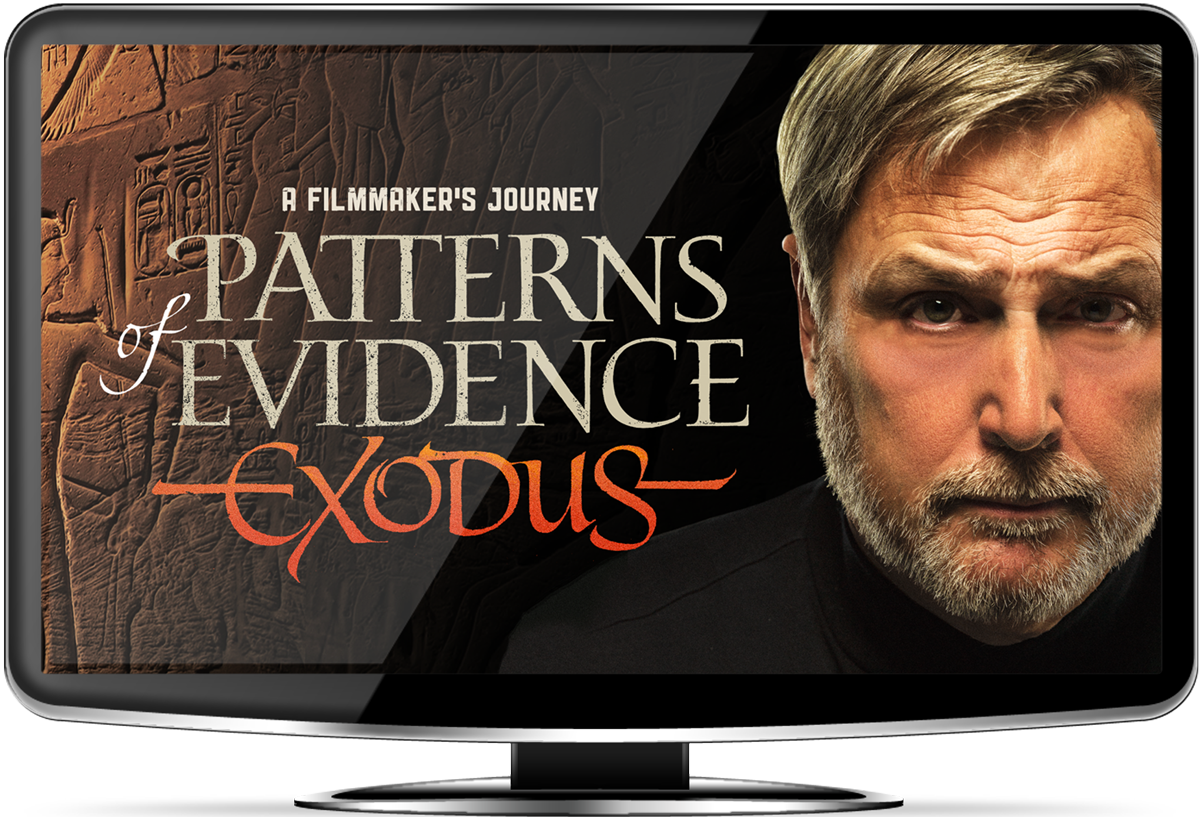 Thank you so much to Deanna and the gang over at #FlyBy Promotions for the great movie.  Patterns Of Evidence: The Exodus.
I have to admit – I was skeptical at first glance. But first a little about the movie.  I am pretty sure I should be calling it a film.  Don't ask me the difference – I am ignorant so let's do a little digging. 
Dictionary.com defines film as:
Motion Picture
Doesn't say much does it. However Motion Picture is defined as:
1. a sequence of consecutive pictures of objects photographed in motion by a specially designed camera (motion-picture camera) and thrown on a screen by a projector (motion-picture projector) in such rapid succession as to give the illusion of natural movement.
2. a play, event, or the like, presented in this form.
3. motion pictures, the art, technique, or business of producing motion pictures.
Wikipedia defines film as:
Film, also called a movie, motion picture, theatrical film, or photoplay, is a series of still images that when shown on a screen create an illusion of motion images.
So there we have it, a Film is technically a series of still frames or photographs played in a row at speed to create the illusion of movement.  But you and I know it is generally accepted as simply – a movie. That doesn't really do much for my original question – should I call it a movie or a film.
Since the author calls himself a filmmaker, and he calls it a film, then I guess I will call it a film from now own.  Please forgive me if I inadvertently call it a movie however.
So why was I skeptical? To start I know nothing about the filmmaker. I don't know if he is trying to prove the Exodus, disprove the Exodus, or just plain explore it.  His original statements (which I can't recall at this point) led me to believe he was trying to disprove the Exodus and therefore discredit the Bible. I say good luck with that.
Time starts his film with comments from a handful of people who simply say the Exodus is a farce, there is no proof for it and therefore it cannot be accepted in any way – Faith or otherwise. So I was skeptical.
As it turns out he started with a particular interview. The interviewee states basically "I don't believe.  But you should just pose the discoveries you find and the audience will come to their own conclusion." He was right and that is exactly what Tim did.
I spent 12 years asking the question, "Is the Bible true?"  If it wasn't then what should I put my faith in? What I found was an amazing pattern of evidence that matched many of the events recorded in the Bible. There was a real history that could be seen. For me that changed everything. I encourage you to join me in the ongoing investigation and see the Bible affirming evidence for yourself. –Timothy
#PatternsOfEvidence

So what is the film – really? It is a pretty cool and in depth look at the evidence supporting the story of the Exodus.  From Joseph coming into Egypt, to Pharaoh gaining tremendous wealth due to Joseph's interpretation of the dream given by God, to the enslavery of the Israelites, to the Plagues on Egypt, to the Exodus itself, all the way to taking of the Promised Land. Wow! That was a mouthful.
Anyway at first I thought his premise for the film was on the misunderstanding of the land of Rameses (I think referring to Genesis 47:11) being known to the writer as the land of Rameses as he knew it years after Joseph verses the Pharaoh calling it the land of Rameses because it was not yet known as such.
This was not the case in the end as Tim made clear about midway through the film.  However where he went is much too long for me to try an explain in detail.  The short of it is this – there are many "patterns of evidence" that point to all the events taking place as described in the Bible – exactly as the Bible states. The key to it all being acceptable is simply this – are we looking in the wrong timeframe for these events to have happened?
I am not an archaeologist, a theologian or a scholar. I am a simple man and I must admit – Tim presented some overwhelming evidence to me that the dirt and bones, and artifacts that have been discovered to date, simply prove the events of the Exodus as told in the Bible to be true.  What I think is the largest issue for the scholars, archaeologists and others is this – all timelines are based on the widespread acceptance of the Egyptian timeline.
I will leave it at that and let you watch the film for yourself.  As the first interviewee stated – show the facts as you find them and let the people come to their own conclusion.  I did not need this film to make me believe or disbelieve.  I believe based on Faith and how I have seen God work in my life. But if you need to see age old dirt to even begin to consider the Bible as true, than take a look.  You can decide. But I believe it is pretty black and white.
If you want to purchase the film, you can do so here. Use this code MK1 for $3 off.
I hope you enjoy it. God Bless.
…
About the author/filmmaker/producer
Tim Mahoney founded Mahoney Media Group, Inc. (MMG) in 1989. MMG focused its business on television and video production for regional and national companies. In 2014 Tim founded Thinking Man Films & Media as an international documentary & publishing company with a focus on education and the Bible. Tim produced numerous productions for Christian organizations including the Billy Graham Association, World Wide Pictures, and Compassion
International. Tim also served as the President of the board for the International Christian Visual Media Association (ICVM). Tim's first full feature documentary film, "PATTERNS OF EVIDENCE: THE EXODUS", released in January 2015. The film took 12 years to develop and takes a scientific approach to investigate the events of the biblical Exodus. The overall vision for his film company is to explore "patterns of evidence" that support the biblical narrative and engages the world in a conversation. The film takes a balanced approach and leaves the audience to decide for themselves if the Bible is real history or myth.
About the film 
Won 13 awards on the film festival circuit in 2014, including a Gold Remi Award winner for Best Director at the Worldfest Houston Intl. Film Festival, the Gold Crown Award for Best Picture and Best Documentary at ICVM 2014, and Official Selection at the Soho International Film Festival in New York.
 Supplemental resources associated with the film include a nearly 400-page hardcover book, small group Bible study, Movie Event kit, youth version (called Young Explorers), homeschool curriculum and others.
It includes powerful interviews with some of the top experts in the fields of archaeology and Egyptology as well as people of influence in the Middle East.
 The film has an objective, fair-minded and balanced approach. It allows viewpoints from all sides to be heard in a respectful way while asking honest questions of the Bible and scholars' views. It does not preach and lets the evidence speak for itself. This allows the film to be very shareable with those of different viewpoints.
"Disclosure (in accordance with the FTC's 16 CFR, Part 255:  "Guides Concerning the Use of Endorsements and Testimonials in Advertising"):  Many thanks to Propeller Consulting, LLC for providing this prize for the giveaway.  Choice of winners and opinions are 100% my own and NOT influenced by monetary compensation.  I did receive a sample of the product in exchange for this review and post. Only one entrant per mailing address, per giveaway.  If you have won a prize from our sponsor Propeller /FlyBy Promotions in the last 30 days on the same blog, you are not eligible to win.  Or if you have won the same prize on another blog, you are not eligible to win it again.  Winner is subject to eligibility verification.