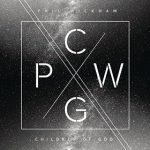 Thank you #FlyBy Promotions for sending me the new Phil Wickham #ChildrenofGod CD. I did enjoy the CD and so did my kids. I am finding that CDs are going the way of the 8 track in my house these days so it was a little more difficult than usual to review this one. Anyway I am going to cheat a little and do a song by song commentary from my teenage boys…
1. Doxology / Amen: "I usually skip this one because it was kinda slow." I can see where he is coming from as this one is always a bit slow and some people drag it out more then others. He did a decent job on it though.
2. Better Than Life: "I really like this one" It is an upbeat song that both my boys and I enjoyed.
3. Your Love Awakens Me: No comment really.
4. The Secret Place: "This was pretty cool. Madison did a good job." From my wife: " I recognize this one. I like it."
5. Wide Awake: " I would like to hear that one on K-Love." Me: I really liked this song. I found myself tapping my toes and getting distracted from what I was doing to listen and lean into the words and the rhythm. Again – I really liked this one.
6. My All In All: Me: I enjoyed this as a simple song of worship. I could find myself singing this one over and over for a couple days.
7. Starmaker: We found this one boring. Sorry Phil.
After seven songs I thought it best to go for the overall review. We like the CD overall but wouldn't pick it out of a group of CDS on a regular basis to say "Yeah let's listen to this one." It's a fairly even keeled song list leaning a little on the slow side of things.
Interestingly just after listening to the CD one of my sons started singing "I'm coming back to the heart of worship…" This will give you an idea of the overall subliminal impression we got. It was a good cd of worship.
Thanks again for the CD FlyBy!
The usual Banter – I got this for free to review it, good or bad.  I am getting nothing in return for the review except the cd itself.  And I have it.