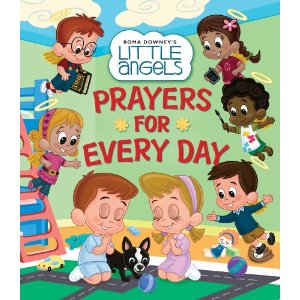 Just a couple days ago I received this book to review – Prayers for Every Day from Roma Downey.  It is meant for little one for sure and my 6 year old loved it.  I handed it to Anna to look at, she took it and disappeared.
The book is a nice board book made for young kids and perfect for 1st grade readers.  Anna was able to read most of the words herself and she was excited to do so.  The book contains prayers categorized for the whole day.  The prayers cover morning, evening, praise, thanks, mealtimes, help, others, guidance, forgiveness, comfort, and bedtime.
Oh yeah – Anna.  When she finally emerged she was so excited to tell me about it and read it all to me.  After a few pages and some wide eyed excitement I asked her to tell me again on film, what she thought of it.  As usual when you miss the moment the first time – the second telling is not nearly as good.  But just the same I will let Anna tell you about it herself.
There you have it straight from the girl.  I will say the prayers are meant for kids.  They Rhyme, they are written in such a way as to be easily understood and well they are fun to read.  This book can be used as another tool to help your child understand prayer and what different things to be praying for.  They are a good start.
Here are some resources to look it up a little further if you are interested.  The book is already out but I have a free copy available until Next Sunday March 10.  Just leave a comment below on why you would like the book and I will pick a random entry to get it.
Website: www.idealsbooks.com
Facebook: www.facebook.com/idealsbooks
Twitter: www.twitter.com/realromadowney
Be Blessed and remember to Give with Passion.
Chris
Because I have to:
"Disclosure of Material Connection: I received one or more of the products or services mentioned above for free in hope that I would mention it on my blog. Regardless, I only recommend products or services I use personally and believe will be good for my readers. I am disclosing this in accordance with the Federal Trade Commission's 16 CFR, Part 255: "Guides Concerning the Use of Endorsements and Testimonials in Advertising."