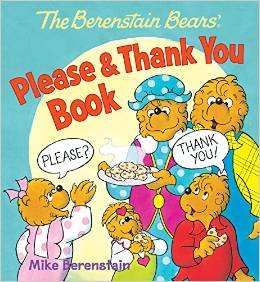 In keeping with the spirit of The Berenstain Bears, the latest book "Please & Thank You Book" is a simple and easily processed book for the  kids.  My daughter Anna was pumped to get see the book come in the mail and immediately read it to me.
It was a quick read and the message simple – don't forget your manners. She read it a couple times that night.  Then like I did as a kid – she set it down and forgot about it. A week after she read it, I asked if she wanted to read it again and she said "Yeah. I loved that book!"
"Do you remember what it was about?" I asked.  "Yeah.  it was  about making sure you are polite and say please and thank you."
Not much I know, but I have been processing this lately as I meet many youth in my job at a youth camp.  Kids are seriously lacking in basic manners; but not only kids – adults too.  I am finding more and more that people simply don't bother with the simple niceties.  People just assume you know they are grateful. Why should they say thank you?  Why bother saying please – it is inferred.
I don't believe it is. I had the privilege of working for the 99 Restaurant when it opened up it's Auburn MA store.  One of the biggest things I took from my friend Peter – the GM – always say please when you call someone. It is simple respect.
So working on the line I had many opportunities to call servers and bar tenders when their orders were up and it amazed me how that simple word, simple action, served to  instill a spirit of respect. Mind you I was raised using please and thank you and respecting my elders and all that 'stuff'.
What I noticed was that I treated people with more respect than usual, others did the same, and in turn we were treated in kind- respectfully.  Sounds trite I know – but it just worked.  I still to this day ind my self calling people by the same last name – Please.
I ramble.  In a world where it seems that kids have less and less example of chivalry and etiquette, simple things like letting your child read this or better yet – reading this book to your child, can go a long way to instilling a little more 'common courtesy' into our community.
Better yet – be an example – read the book yourself and start using the words with your kids.  Do as I do, and as I say – will go a long way.
BECAUSE I HAD TO:
"Disclosure of Material Connection: I received one or more of the products or services mentioned above for free in hope that I would mention it on my blog. Regardless, I only recommend products or services I use personally and believe will be good for my readers. I am disclosing this in accordance with the Federal Trade Commission's 16 CFR, Part 255: "Guides Concerning the Use of Endorsements and Testimonials in Advertising."
From the powers that be:
The cherished Bear family is coming to a new generation of toddler and preschool readers.

Stan and Jan Berenstain introduced the first Berenstain Bear books in 1962 and the Bear family celebrated its 50th anniversary in 2012! Here the charming and lovable Bear family is once again introducing children to the typical issues and questions that they face every day.

In The Berenstain Bears' Please & Thank You Book, little readers are introduced to the importance of manners, through gentle reminders given to Brother, Sister, and Honey as they await their milk and cookies. The short story and well-loved characters provide toddlers a perfect introduction to valuable life lessons and routines.

About the author:

Mike Berenstain grew up watching his parents work together to write about and draw these lovable bears. Eventually he started drawing and writing about them too. Though Stan died in 2005 and Jan in 2012, Mike carries on his parents' love of creating Berenstain Bear stories from an area in Bucks County, Pennsylvania, which looks a lot like Bear Country.