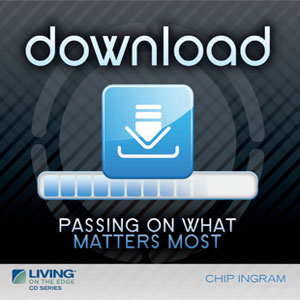 Genesis 50:20 As for you, you meant evil against me, but God meant it for good in order to bring about this present result, to preserve many people alive.
We have a responsibility to teach our kids, our grand-kids, our friends etc.
It's a fallen world, life is hard, life is unfair, God is good, God is in control, and just like Joseph, He will actually use the most painful, difficult, sinful injustice, betrayal, everything you go through to fulfill His ultimate purposes if we, like Joseph, say "You know I don't always understand this – but I'm not bailing out. I'm gonna trust God."
God I don't understand, but I'm confident of this – that He who began a good work in me will perfect it until he day of Christ Jesus.
Chip Ingram; Download: Passing on what matter most – Part 1 -Teach them to suffer well; May 6 2015
…
Through this I think of my Mom and Dad who have suffered well.  Often times I have asked them: "Why do you keep doing what you are doing?  You are living basically in poverty, putting up with years of hardship emotionally, physically and everything else. You know you can just walk away."  Their response: "This is what God called us to. He has bigger plans then we do."
Thanks Mom and Dad for suffering well.
Are we teaching others to suffer well? Are we passing on what matters most? I hope I am but I know I fail. Look at all the "I"s in that sentence.  It's no wonder I fail, right?  God help me to suffer well, help me to teach my children to suffer well.
This does not mean we will always be suffering by default.  But surely you have noticed as I have, their are many times we do suffer in this life.  We should be pretty good at it by now.
God you are my Lord and you work all things together for good to them that love you, who are called according to your purpose.  Thank you that I am one you have called.  Thank you. Teach me to suffer well. Teach me to pass it on.