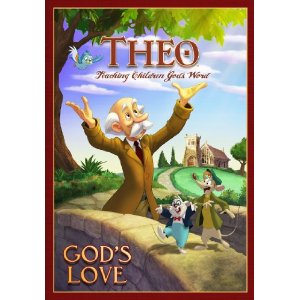 Yesterday I received a dvd to review from Fly propeller.  It was called THEO – Teaching Children God's Word.
The premise is that Theo teaches your children THEOlogy through the animated stories.  At first glance it looked like my children would enjoy it (ages 10 and 5) and they did.  They even passed up the Red Sox playing in the other room and that means a lot for sure 🙂
The dvd I received had two episodes on it called Saving Faith and Good News.  Saving Faith was approximately nine minutes long and Good News, approximately 5 minutes.  I did not realize that when I put in the dvd.
I am not sure how long the one on Amazon is but it says it has three episodes on it… Saving Faith, Loving Obedience, and Forgiveness.
Anyway – THEO discusses doctrines about sin, God's character, the Bible, salvation and godly living with animated illustrations that entertain children and hopefully encourage them to learn more about the Christian faith.  I can't tell you a lot about the theology based on these two episodes except that these two tell their stories right from the bible.  There is no scripture reference of any kind but I don't think their was meant to be.
I would say that THEO is definitely worth a watch when you need a little help in a Sunday school class, or if you need to introduce a new topic to your young children in a way they would be open to.  However I would not use them as a substitute to a full class or home lesson with your kids.  They are really too short for that.
And to be frank – If the two stories I saw were what comes for each story – I would no want to spend $13 plus shipping from Amazon to buy even the three story DVD.  You pay that much for a old movie.  I think if they were $5 – $8 a cd I would more apt to promote them as a sellable item.
A small update on the buying thing.  I just realized this…
What set's THEO apart from anything we've worked on?
The Buy 1 – Give 1 campaign!  For every Theo DVD purchased, Whitestone Media and Child Evangelism Fellowship® will send a child in need their very own copy of Theo.
You can log onto TheoPresents.com after making your own purchase, and select the region of the world you'd like another copy of Theo to be sent.
So buy it – if only to spread the Word to kids in need.  I like it – Buy 1 Give 1.  A great idea.
You can visit THEO online at http://www.theopresents.com
And on Facebook at http://www.facebook.com/theopresents
I hope this is helpful to you all.
God Bless and Give with Passion!!
Chris
The fine print… Disclosure of Material Connection: I received one or more of the products or services
mentioned above for free in the hope that I would mention it on my blog. Regardless, I
only recommend products or services I use personally and believe will be good for my readers.
I am disclosing this in accordance with the Federal Trade Commission's 16 CFR, Part 255:
"Guides Concerning the Use of Endorsements and Testimonials in Advertising.