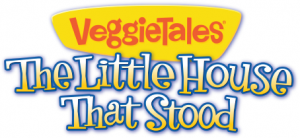 A few days ago I was sent a review copy of the new Veggie Tales movie The Little House That Stood. We have always been fans of Veggie Tales so it is no surprise that we liked it.
In the usual Veggie Tales style Bob and Larry join together with the help of Mr. Lunt to teach us about building on a firm foundation.  While talking about the big book of building, Mr. Lunt of course says he uses it as a booster seat and in classic Larry humor comes the retort "Booster seat books intimidate me."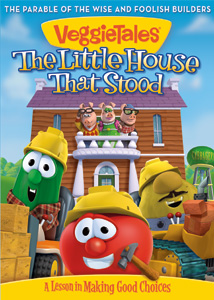 While it is true that at times we can be intimidated by the depth and breadth of the Word of God, we have to try.  We have to open the Word of God and start building on it.  Day by day by day.
The kids loved the movie of course.  The characters got across their points well and even tied in some other fairy tale characters in the second half of the show.  My daughter sat happily on my lap and watched it a second time the next day.  We enjoyed the first story better than the second, and honestly I feel they tried a little too hard to cover the whole gamut of fairy tale stories, but it was still well done and readily enjoyed by the kids.
The movie comes with a study guide that you can go through as well.  Of course you can visit the The Little House That Stood online, on Facebook, Twitter, or view the cool trailer.
The dvd is already out but I have a free copy available until Next Sunday March 10.  Just leave a comment below on why you would like the dvd and I will pick a random entry to get it.
God Bless and Give with Passion!
Chris
Form the publisher:
When the Three Little Pigs roll into Cabbageville looking to build some new houses, they meet one builder with a plan and two without a clue! Larry builds with hay, Mr. Lunt with bricks, but only Bob builds his houses on a firm foundation – following the wise plans from the Master Builder's Handbook! Will the Little Piggies make the right choices when it comes to building their houses – and their lives – on solid ground? Find out in this parable that shows kids when they follow God's blueprints, then can stand strong when the storms come!
Because I had to:
"Disclosure of Material Connection: I received one or more of the products or services mentioned above for free in hope that I would mention it on my blog. Regardless, I only recommend products or services I use personally and believe will be good for my readers. I am disclosing this in accordance with the Federal Trade Commission's 16 CFR, Part 255: "Guides Concerning the Use of Endorsements and Testimonials in Advertising."