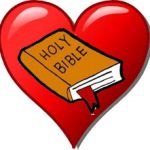 This week we are memorizing Galatians 2:20
I am crucified with Christ: nevertheless I live, yet not I, but Christ liveth in me: and the life which I now live in the flesh I live by the faith of the Son of God, who loved me, and gave himself for me

Galations 2:20
If these verses together all look familiar to you – it's because you went through the 2:7 series at one point.  I was in an discipleship program about 23 years ago and we were doing this series of verses in the study.  I have to say that learning them back then was much easier than learning them now 🙂
One of the cool things in all this is that I am not only going through these verses again – but I get to do them with the same man who discipled me all those years ago.
Lord – thank you for the chance to hide your word in my heart.  Thank you that I can be encouraged by one of the 'mighty men' in my life.  I pray that I would also be an encouragement to Him and that together we would come closer to you.
May the Lord bless you and keep you this day.  Go forth and do His will in your life and you will be blessed!
Give with Passion
Chris