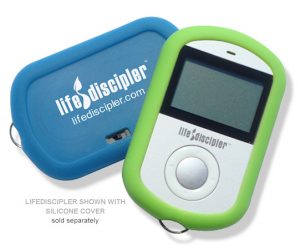 So last week the people at Buzz plant sent me two products to review and I want to focus on the Life Discipler Electronic Verse Reminder.
At first glance it's a nifty little tool.  It comes in a nice compact form with very easy to use functionality.  I opened it up and was immediately able to put it to use.
I just have to say – before I give the long winded review – I LOVE THIS LITTLE THING!
Here are some of the features and how I modified the default setup to fit me.
First off it has a standard LCD screen measuring approximately 1″ by 1.5″.  According to the manufacture – they went with this option to save approximately $20 retail over the next option of screen.
Ok – the default settings are pretty good.  The text size is set at small, the alarm is set at low and the timing is set at 15 minutes.  I did try the text larger as I thought it  would be easier to read – however I found that not enough text fit on one screen that way and I found myself scrolling a lot more.  So in the end the default 'small' text is best for me.
The alarm is set too soft for my liking – I will never hear that little alarm when set on low – so I put it to loud.  It seems to work well that way.  The timing is set by default to 15 minutes.  If you like the reminder – great – I changed it to 30 minutes and you can even go as high up as 60 minutes.
I am disappointed in the search feature as I think it is a little misleading.  When I click search – I expect to enter some text or a topic of some kind and have it searched for.  In reality it is an index – not a search.  But that is just semantics.  For an index it is pretty thorough.  Here is a list of it's 44 categories…
ALL / DIRECT ME
ACCOUNTABILITY-LIFE
ADDICTION
ANGER
ASSURANCE OF SALVATION
BAPTISM
CHILDREN
HOW CHRISTIANS RELATE
CONTENTMENT / FULFILLMENT
CORRECTION / DISAGREEMENTS
DESPAIR / DEPRESSION
DISSATISFIED /  UNHAPPY
ENCOURAGE OTHERS
CREATING A FAMILY
DEALING WITH FEAR
GENEROSITY
GRIEF/COMFORT
GUILT
HOPE
FINDING JOY
LOVING GOD
MARRIAGE
MERCY
MONEY
PATIENCE
PEACE
PEOPLE PROBLEMS
PERSEVERANCE
POWER/ STRENGTH
PRAISE/ THANKS
PRAYER…
HOW/WHEN/WHY
PROTECTION / SECURITY
PURPOSE
REWARDS/ SUCCESS
SALVATION/ GROWTH
STILL SIN
SINGLE/UNMARRIED
SUFFERING
TELLING OTHERS
TEMPTATION
WAITING ON GOD
WHAT SHOULD I DO?
WISDOM
WORRY/ STRESS/ ANXIETY
So why the personal harrumph over search vs. index?  Well they have two cool features on this thing that I really like and searching would make them MUCH more useful.  The features are
Memorize and Favorites
These two features allow you to save verses for later so you can simply serve up verses from those selections only and not all the other verses in the system.  Basically – they are custom created categories in your index.
But back to my point – why call it index and not search?  Because if I want to memorize a verse – I want to go find the verse (i.e. search for it) by reference or text, and add it to my subset – I don't want to hope it will show up in a list somewhere during the course of the day.
Ok that is the first of two disappointments I have with this device.  The second didn't come to me until late in the day – because of the LCD screen – when it is not well lit around you – you simply can't read it.  It would behoove them to put in a backlight.  I know they didn't want to upgrade the screen itself to save on production cost – but maybe a backlight wouldn't cost so much.
Now on to the COOLNESS factor.  In case you're wondering – I love this little thing!
Really, this thing is nifty and I can really see it blessing my daily walk – so long as I keep it on hand.  You can even accessorize it with a colorful cover.  It has over 1500 verses from 5 modern translations (NIV, TNIV, NKJV, NLT, CEV).
It is going off every 30 minutes and throwing me great verses from the All / Direct Me category.  In other words – I am currently being blessed by 1500 verses.
It was a great resource throughout my days and as much as you might think it could be a distraction – it was not in any way.  Every 30 minutes it beeped, I read a verse and often scrolled through to another verse or two and was immediately back to work.  I found that not only was it NOT A DISTRACTION – but
It was a motivator
Because our attention spans are short and our concentration often has to be so focused for so long – I loved the simple encouragement for less than 45 seconds and was able to get back to work with a more joyful attitude.
Well I love this thing and I hope to keep using for as long as I can.   I encourage you to try it out if you want a little more encouragement throughout your day or you are finding it hard to keep up with your devotions – let it be your accountability partner for a few weeks and I know you will be blessed!
Ok – so that was my honest review and yes – they did in fact send it to me free in order that I would review it.  You know what the first thing I did on day one was?  I immediately emailed them to ask if I could help them sell it.
So with that – here is a 20% discount coupon code good through December of 2010.  If you should buy this product – make sure you use the code [coupon code="LifeDiscipler" /] in your checkout and you will get 20% off your order.  I am still not convinced I would pay $30 for the little guy maybe upwards of $20-$25 – but if it had a couple little add-ons (tomorrow) I would certainly pay the money for it.
Again that coupon code is [coupon code="LifeDiscipler" /]
Be Blessed all and remember – Give with Passion!
Chris