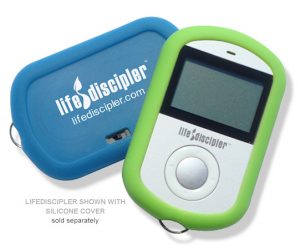 I thought that since I reviewed the LifeDiscipler yesterday – I would also put up a post on what I could see as great improvements if all possible.  No particular order and not hopes that they will – but you just never know…
Lighting
As I mentioned yesterday – the lighting could really use some help.  I know they wanted to keep the cost down – but I can't see that at almost $30 retail – they couldn't put at least a backlight in it.  I would hope the next version would work better for that.
Feel free to check it out and get a 20% discount when buying before the end of 2010.  Just click and use the [coupon code="LifeDiscipler" /] coupon code.
Search
If you read yesterday's review of the LifeDiscipler – you know that this is my biggest pet peeve.  I want to search – I don't want to browse an index.  Hopefully they will allow you to search in the next version.  There are no text keys but since the machine is already set up to index  – why not use that same concept?  Click search, choose the book of the bible from the list of available books, then choose the chapter, then choose the verse.
At that point I could put the verse into favorites or memorization.
More verses
This little thing is a computer.  I can put an entire version of the bible on a usb stick – why not do one version and more of it?  Worried about not having your version – maybe they can be ordered with particular versions on it – dunno.
This also brings up a good point you could put a little usb stick on the side of it like the flip camera and then allow the user to simply upload their own verses in a particular format.
The usb thing would open the door to all kinds of possibilities.  Not enough memory for the whole bible?  Then sell it with NT or OT or just the apostles – then upsell the others.
So I have only three basic improvements that I can see and would be wiling to pay for if the base machine stayed low.
I hope this is helpful.  Again – the manufacturer DID send me a free copy to review – I did not buy this product – but I have to say that after a few days of using it – I would buy the product and I may end up getting some for Xmas presents this year.
If you want to buy it – and because I was asked to review it – I can offer you a coupon for 20 percent off.  [coupon code="LifeDiscipler" /]
Go use it you will not be disappointed.
God Bless and Give with Passion!
Chris